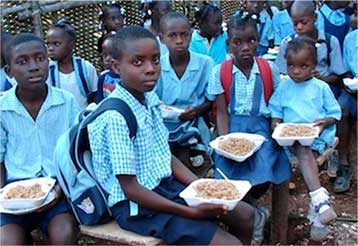 OIH operates the only food distribution center in Bombardopolis, Haiti. We began by feeding our orphans three hot meals a day. When we opened our school, offering free education to the village children, we expanded our program to include feeding these students one hot meal a day. This was not enough.
Starving people from the village came to the OIH facility asking us to please help them feed their families. So, OIH did the only thing that we could do…feed them! With the migration of earthquake victims to the Bombardopolis area, the need for food has become even greater. To make the OIH feeding program successful, we need individuals, organizations and churches to partner with us who are willing to pledge finances to help with this ongoing mission outreach.
WAYS TO HELP WITH THE FEEDING PROGRAM
MONETARY DONATIONS
$10 will feed 5 children for a month
$20 feeds 10 children for a month
$30 feeds 15 children for a month
$50 feeds 25 children for a month
$100 feeds 50 children for a month
$1,000 provides 27,000 meals
$10,000 provides 270,000 meals
$10,000 pays the shipping costs for a shipping container full of FREE fortified food through our partnership with "Feed My Starving Children" ~ that's over 270,000 meals
NON-MONETARY DONATIONS
We accept the following items but are not limited to: rice, beans, wheat, cornmeal, white flour, noodles, top ramen, salt, seasoning salt, sugar, oil, tomato paste, powdered milk and peanut butter
SERVING LUNCH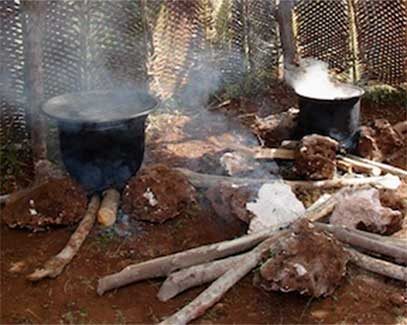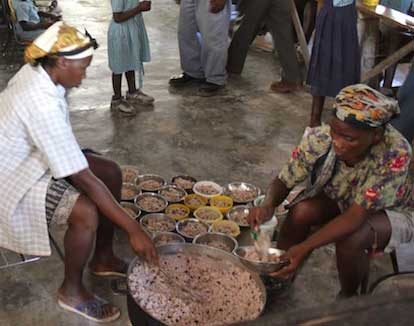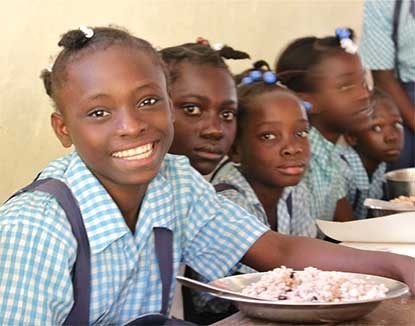 FEEDING THE COMMUNITY
FOOD DISTRIBUTION IN AUGUST 2008 & 2011 & 2017
OIH's feeding program also includes distributing food to the many needy people in Bombardopolis. OIH prepared hundreds of bags of cornmeal and flour in August 2008 and distributed them to a long line of people who walked for miles to reach the OIH center. Many people waited for hours outside the tiny OIH church that was converted into a food center for the day. Although the morning hours were spent bagging food in a room that quickly turned into a sauna from the rising temperature and lack of air flow, the smiles and hugs of gratitudes from the recipients were worth every second to the volunteers.